I. B. R. AGRO WASTE FIRED STEAM BOILER EBPL SERIES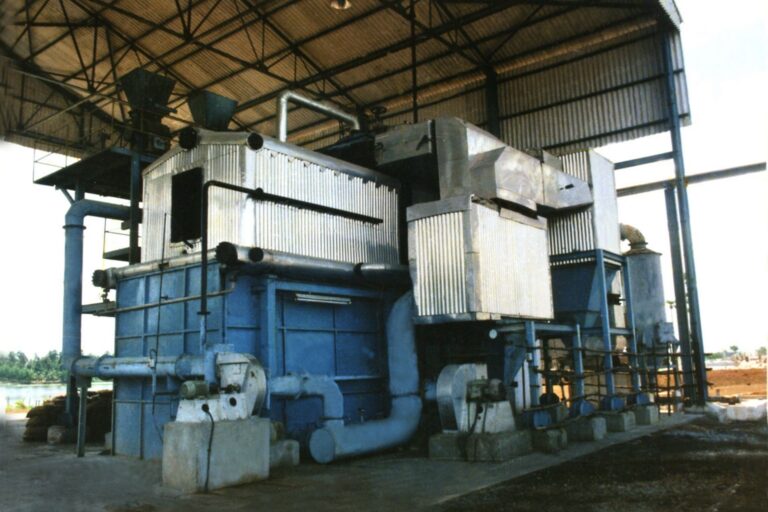 I. B. R. AGRO WASTE FIRED STEAM BOILER EBPL SERIES
Energypack Agrowaste Fired Boilers & Biomass Fired Boilers have three pass water wall construction which are horizontal type fussion welded with Water / Air pre heater. Biomass Fired Boilers have furnance formed with water wall construction completely submerged in water. Boilers are made to IBR/DIN/BS/ASME Code. The IBR Steam Boilers are designed for maximum safety, dependability, quite operation and to burn solid agrowaste with low calorific value.
The IBR Steam Boiler with an external furnace compact design can be installed easily as they come with complete insulation refractory on site for ensuring minimum installtion time. These Biomass Fired Boilers assure low ash content and residual ash removal due to our user friendly ash removal design becomes very easy. Extra grate area and furnace length ensure optimum efficiency in our Agro Waste \ Biomass Fired Boilers.
Our integral furnace submerged below water level ensuring complete utilization of heat liberated in the furnace. Apart from the Coal & Lignite the Solid Fuel Fired boiler can also be burnt with Biomass, Briquettes, Groundnut Shells, Coconut Shells, Cashew Shells, Sugarcane and Wood husk to ensure environment friendly flue.
Boilers can be supplied with Mechanical dust collector, Water preheater & Air preheater with Rotary Airlock Valve to prevent pollution.
Want to know more?
Let's connect with our experts today!
Trusted by
World Class Brand